This page talks about what passive income is, what is required in order to create it, and what I've done to create my own.
I hope to help you understand it a little better and to inspire you to start creating your own! 🙂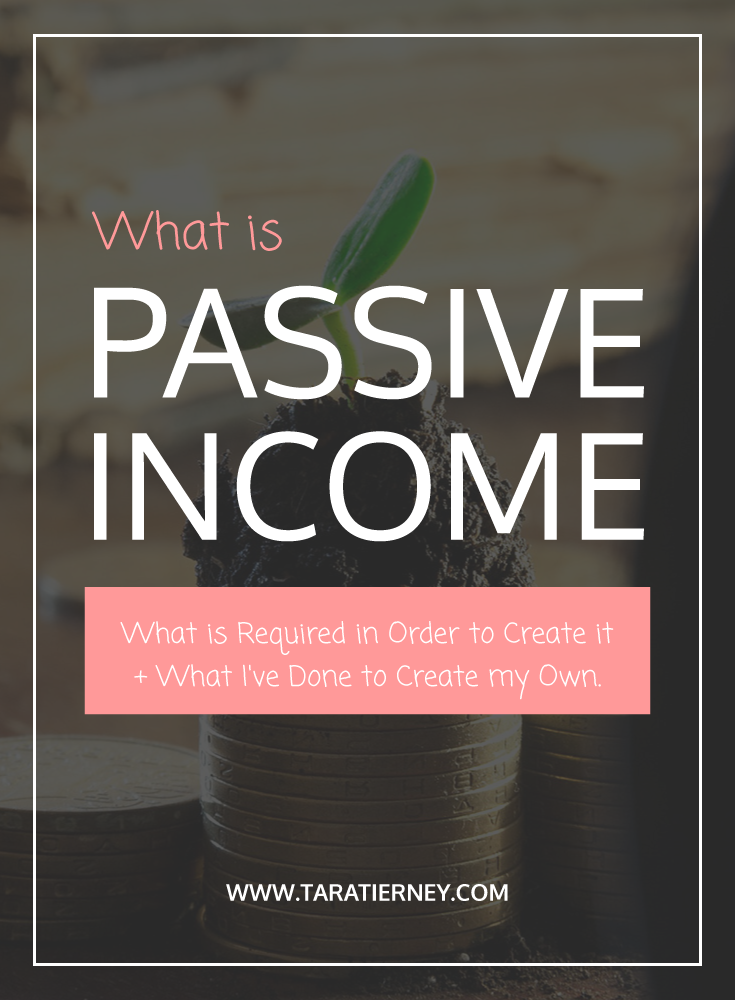 Passive Income vs Active Income
Passive income is residual income you earn from an up front investment, that usually requires little to no effort to maintain it.
An investment is something you put money, time, talent and/or emotional energy into in order to achieve something that benefits you.
Active income is income you stop earning when you stop working. 
It's basically trading time for money.
Passive Income Requires Work Up Front
Passive income requires you to create something of value up front so that you can reap the rewards later. 
Most of the things I've created have been the result of many, many hours of research, thought, trial and error, and plain old hard work, up front. 
Passive Income can be a Risk
I never know if something I create is actually going to create any kind of income for me, which can be frustrating after investing so much time and energy into it. 
Even if it does bring some income, I don't always know how much it will be or how long it will continue for, which is why I continue to work and why I'm always trying to find ways to create new passive income streams. 
It can be a risk but it can also be so rewarding that the risk is totally worth it (you never know until you try!)
3 Ways I've Created Passive Income Streams
I try to recognize what people are searching for and then I do any of the following:
If there isn't something out there that helps people with that particular thing, then I try to create it (as long as I have the answers.)
If there is something out there that helps people with that particular thing, but I feel like I could make that thing better, then I try to do that.
If someone has created something that helps them, and it has also helped me, then I tell others about it and use either an affiliate link or a referral code in order to earn myself some commission (which I consider semi-passive income.) 
Passive Income isn't a Form of Laziness, it's a Form of Efficiency
It's about working smarter, not harder.
It's a way of creating more time for yourself.
Basically, passive income helps structure everything and helps everything flow in a more cost-effective and labor-saving way.
Passive income is what has helped me run my own graphic & web design business PLUS 3 blogs BY MYSELF since the beginning of 2013. The only help I get is help with my taxes every year. I do everything else myself and have learned everything I know by reading (blogs, ebooks, books,) watching online videos/webinars, investing in courses, and then trial and error.
Passive Income is Perfect for Solopreneur-Types
I've always preferred to find ways to do everything myself instead of hiring people to do it for me probably because I like to be the one who is in control and simply because I just like to work alone.
Need Some More Inspiration?
Check out any of the following: