My Monthly Blogging Income Report is officially commencing! 
August 2016 has financially been the best month of my life. Not only that, but most of my income was passive income (income received on a regular basis, with little effort required to maintain it) earned through blogging. 
Earning passive income through blogging is still something I'm learning how to get better at, so I figured keeping a monthly income report would help me analyze things better, keep me more accountable and give me the motivation to keep improving. 
My goal is to share my experiences and be transparent about what's working and what's not working when it comes to making money online. Hopefully these reports will inspire others who are looking to do the same!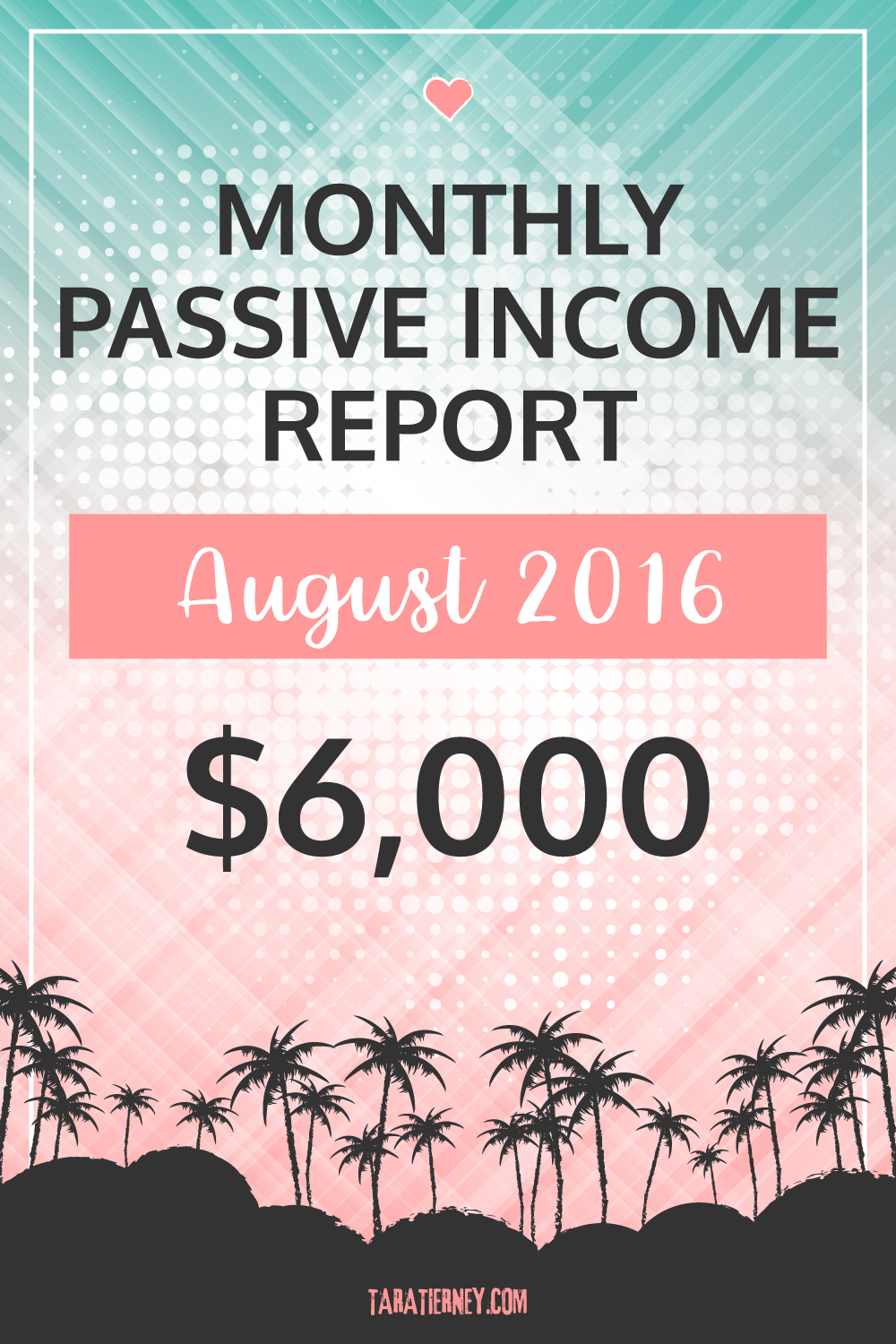 MONTHLY PASSIVE INCOME REPORT 
The income on this report was earned either through this blog or any of my other 3 blogs. I consider this money passive income, as I did not exchange a set amount of time for a set amount of money in order to earn it.
This amount does not include the income I make for my design and marketing services or any other service-related jobs I do.
The income reported here is the total money I received this month (some amounts were earned in the previous month, but weren't deposited into my bank account until this month.) 
These numbers also do not reflect the taxes I will need to pay on this income.
Disclaimer: This post may contain affiliate and referral links.
INCOME
Uber - $6,025.00
Herbalife - Can no longer disclose.
*UPDATE 7/8/2017: Herbalife is no longer allowing me to disclose my earnings due to laws and regulations established by state and federal law and Herbalife Rules. They have asked me to remove all of my Herbalife earnings from my blog, which means all of my monthly income reports will be changing. For more info about this matter, please see the Statement of Average Gross Compensation or How Herbalife Members Earn Income.
Lyft - $20.00
_______________
TOTAL = $6,045.00
EXPENSES
Herbalife Yearly Membership Fee - $79.99
Adobe Creative Cloud Membership - $49.99
Google Apps for Work - $5.00
StudioPress Pro Plus WordPress Themes - $499.95
GoDaddy Yearly Deluxe Web Hosting Fee - $113.89
_______________
TOTAL = $748.82
NET PROFIT
TOTAL = $5,296.18
BLOG TRAFFIC
TaraTierney.com - 4,305 page views
 
UberDriverReferral.com - 1,235 page views

HerbaMember.com - 211 page views

WhippedDream.com - 205 page views

TOP 3 POSTS/PAGES PER BLOG
TaraTierney.com
How to Register as an Herbalife Member
How to Earn a $500 New Driver Bonus with Uber
What I'd Really Like to Say to my Narcissistic Roommate
UberDriverReferral.com
How to Earn a $750 Uber Driver Referral Bonus
Uber Driver Referral Bonus San Diego | Now $550 for July 2016
HerbaMember.com
WhippedDream.com
NEW THINGS I DID THIS PAST MONTH
- Redesigned my blog.
- Created 2 new blog posts: Revamping my Blog: Design Changes & More Focused Content and The Steps I Took that Helped Me Work Less and Earn More in 2016
- Set up and started designing my Herba Member Blog. I created a few pages on it and linked my post How to Register as an Herbalife Member on this blog to it to help bring it some traffic.
GOALS FOR NEXT MONTH
- Create more how-to blog posts to help people find answers to their questions
- Make $8,000 + in passive income.
- Continue paying off the $40,000 in debt I accrued as a struggling entrepreneur!
INCOME ANALYSIS
Really excited to see my latest efforts working for me right away! It motivates me to do more and see what else I can come up with!
I think getting this blog cleaned up and more focused earlier this month, really helped me re-energize and got me excited to work again! I was able to take 2 months off this summer because my blogs were fully working for me, it was amazing! Especially after working so hard for so long (about 3.5 years of busting my butt trying to figure this shit out!) 🙂
---
Are you looking to start a blog and/or learn how to make passive income online? Let me know what you want to know in the comments below and I will try to answer your questions. I may even use this as fuel to create a blog post or product to help you! 😉